BlancaReal gests into luxury real estate market
AlboranView is an exclusive luxury villa project nestled within the magnificent Azata Golf.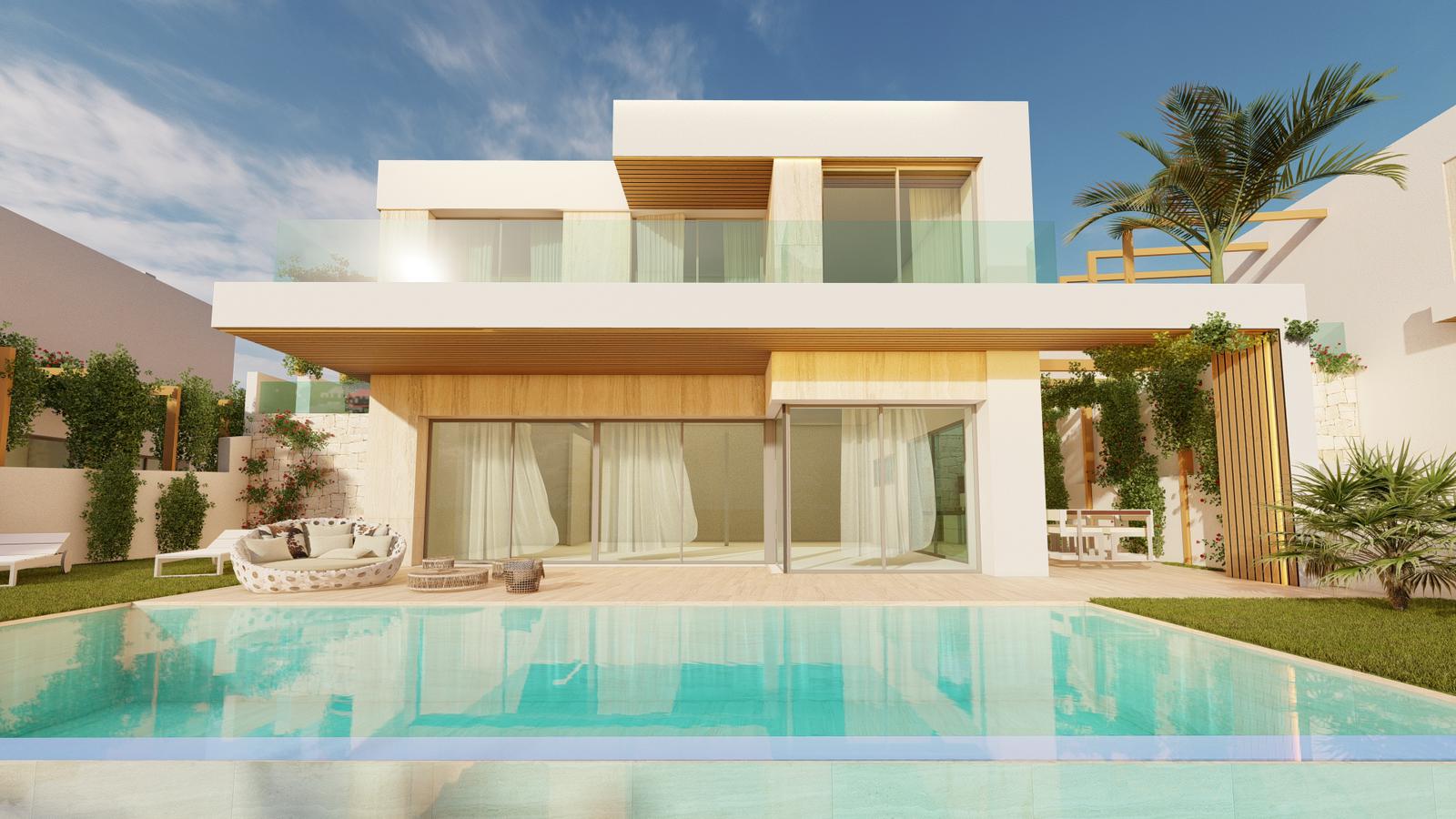 This newly built project in Estepona, Costa del Sol, sets a new standard for luxury living within the prestigious Azata Golf Resort.

Independent villas that epitomize sophistication and refinement. Every villa is a masterpiece, showcasing contemporary architecture, exquisite detailing, and an unwavering commitment to superior quality.
These homes have been thoughtfully designed to harmonize with the surrounding natural beauty while offering an unrivaled level of comfort and exclusivity.
What could be the house of your dreams is composed of 2 floors, with terrace in each of them. The rooms are very spacious which gives them a feeling of spaciousness and open to the landscape of the golf course, providing a high luminosity throughout the day.
Its immense windows with horizontal displacement also have a double glazing technology that isolates both cold and external heat and provides soundproofing inside.
Inside you can enjoy the living room, kitchen and toilet on one floor and 3 bedrooms with 2 bathrooms, one of them en suite, in the other floor. The order of the plants is modifiable, that is, you decide what you prefer in each plant.
The pool and garden allow you to enjoy more than 300 days of sun offered by the Costa del Sol.
Technology and high quality
All villas have double certification (AA), consumption and emissions. Not only will you save but you will also be more responsible with the environment.
Equipped with aerotermal system and air conditioning system with a renowned brand, the floor heating will allow you to have an ideal temperature on those cooler days.
The basic home automation installation will allow you to control different devices in the house, since all environments will be equipped with voice and data.
In order to charge your electric vehicles, all the villas will have an electric charging point.

Living in AlboranView means immersing yourself in a golfing paradise. Each villa is strategically positioned to provide stunning views of the Azata Golf course, creating a seamless connection between the game and everyday life.
Alboran View effortlessly combines the joy of golf with the tranquility and luxury of a dream home.
Azata Golf
The residents of AlboranView are privileged to enjoy a host of exceptional amenities and services that enhance their lifestyle. The project offers a private clubhouse exclusively for residents, complete with a fitness center, spa facilities, and a swimming pool.
This heaven of relaxation and rejuvenation is the perfect place to unwind after a challenging round of golf or to connect with like-minded neighbors who share your passion for the game.
Proximity to Azata Golf and Surrounding Courses
One of the standout advantages of AlboranView is its direct access to the prestigious Azata Golf course. As a resident, you have the privilege of stepping onto the course at your convenience, indulging in an invigorating game of golf whenever the mood strikes.
Azata Golf, with its exceptional course design and awe-inspiring natural surroundings, offers an unparalleled golfing experience.
Furthermore, the project's location in the heart of Azata Golf provides easy access to other renowned golf courses in the vicinity. Golf enthusiasts will be delighted to explore nearby courses such as Valle Romano Golf and Resort, Resina Golf, Estepona Golf. Also you can reach quickly to Santana Golf o Valderrama Golf by car.
AlboranView is more than just a luxury villa project; it's an invitation to embrace a lifestyle of unparalleled elegance, exclusivity, and golfing pleasure.
With its breathtaking villas, seamless integration of golf and everyday living, and proximity to exceptional golf courses, AlboranView within Azata Golf offers a rare opportunity to own a slice of paradise.
Prepare to embark on a journey where luxury, leisure, and the love of golf converge, creating a harmonious sanctuary for those seeking the ultimate in refined living.
If you want to know all the details of these luxury villas in Estepona, you have all the information available on the AlboranView website